For your individual needs
Planning and
manufacturing from a single source
For your individual needs
Planning and
manufacturing from a single source
From planning to implementation
Gerloff GmbH
As an expert in bathrooms and the manufacture of products from natural and artificial stone slabs, we specialize in mass-produced bathrooms. Our customers include well-known hotels, clinics, and retirement and nursing homes. In addition to private individuals, we mainly work with property developers, architects and engineering offices, who appreciate the high quality and individuality of our services and products.
Kick-off meeting
First exchange about the new project. We take your wishes and plan the next steps together with you.
Further planning services
We are also happy to take over other planning services for you. We organize, for example, water and sewage installations, electrical installations and the laying of floor and wall coverings.
Implementation on site
With our long-term construction managers and installation partners, we are responsible for on-site installation at our customers' facilities. Our project teams deliver on-time fabrication and installation.
Sketches and project planning
We fulfill even the most unusual wishes. Sketches and renderings of the designers are checked in our technical office and implemented in a first sample.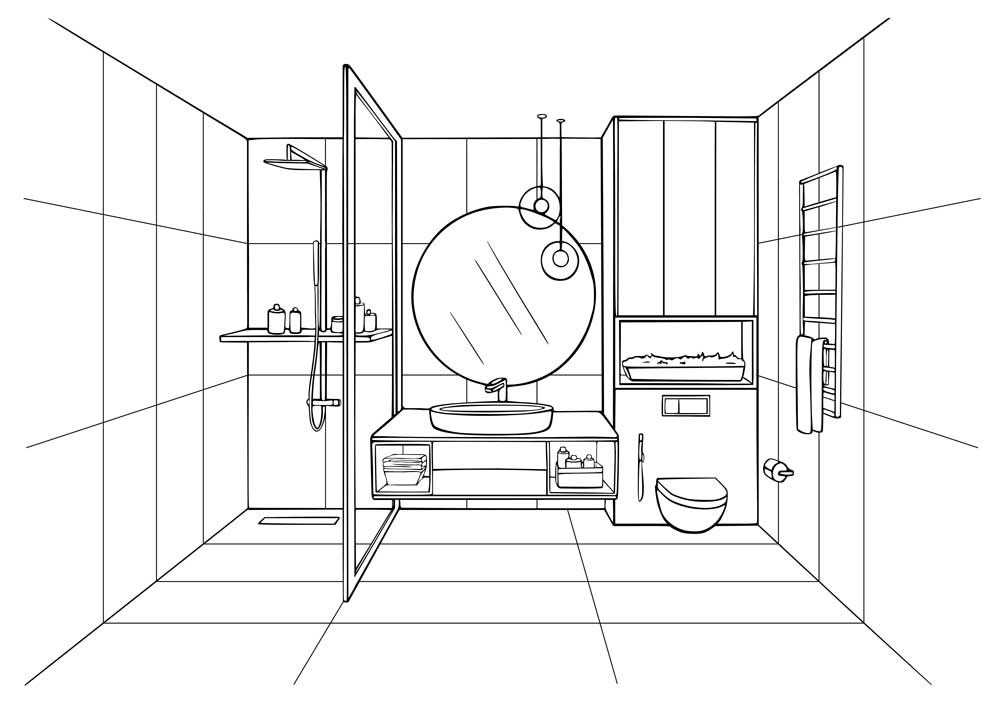 In our factory we are able to meet even the highest and most unusual demands. For this purpose, sketches and renderings from the designers are checked in our technical office and integraded in a first sample. Depending on the customer's wishes, the final products are adjusted until they correspond exactly to the customer's requirements.
With our long-standing construction managers and installation partners, we are also responsible for the installation at our customers' sites. Gerloff bathrooms meet all the requirements of our demanding customers in terms of quality, delivery reliability and durability. Our project teams deliver on-time fabrication and installation. Under the right conditions, even bathroom renovations during ongoing hotel operations are possible. We are happy to adapt to your individual requirements.
The technical office at Gerloff involves more than just the preparation of drawings and working and assembly plans. Together with architects and planners, it develops entirely new elements in the bathroom. From individual natural stone products to unique glass constructions: Our planners bring the ideas of world-renowned designers to life or develop design proposals for each bathroom to suit our customers' needs. In any case, a Gerloff bathroom stands out and remains in the user's memory.
Depending on the needs of the customer, our planning services include:
Water and drain installations: The installation of water lines, drains and pipes must be carefully planned to ensure that they comply with local building codes and that the bathroom functions optimally.
Electrical installations: Electrical installations such as sockets, switches, lighting and ventilation must also be carefully planned to ensure optimal functionality of the bathroom. Here, the applicable safety standards will be taken into account.
Floor and wall coverings: The choice of floor and wall covering depends on various factors, such as the desired appearance, water and slip resistance, and ease of maintenance.
Sanitary facilities: The choice of sanitary facilities such as toilet, sink, shower and bathtub plays an important role in the planning of a bathroom. It is necessary to consider not only aesthetic aspects, but also functionality and comfort.
Accessibility: When planning the bathroom, accessibility should also be taken into account to allow unrestricted use for people with limited mobility.
Gerloff GmbH
Höhenweg 13
37269 Eschwege